Search
Enter a keyword above and hit "Search".
Todays Top Downloads
Advertising
Viper3773
ipsmenu.register( "post-member-2271711", '', 'popmenubutton-new', 'popmenubutton-new-out' );
Today, 11:07 AM
Post #1
Administrator // Founder
Group: Root Admin
Posts: 40,741
Joined: 5-February 07
From: The Viper Files Index
Skin: TVF 2011 Reloaded
Member No.: 1
Kyodai Mahjongg v.1.21 (2006)
What is Kyodai Mahjongg?
« Loading Kyodai Mahjongg for the first time is a revelation in how Mahjongg Solitaire games should be made. From the moment the soothing guitar music washes over you to your first look at the feature-packed but well organized interface, it's apparent that Kyodai Mahjongg is about escaping the real world and immersing yourself in a simple game.
In development since 1997, Kyodai Mahjongg has more than enough content to please the hungriest appetites, including eight fully realized Solitaire games, online multiplayer modes and dozens of tilesets and layouts. Kyodai Mahjongg is also a tweaker's dream, as the interface contains a wealth of visual and audio options, including the ability to switch between 2D and 3D graphics on the fly.
Everything about Kyodai Mahjongg, including the superb artwork and the ability to create your own tilesets and layouts, is a testament to what one developer can accomplish over time with enough passion. »
Kyodai Mahjongg is a great version of the famous Mahjongg Solitaire (or Shanghai) oriental game. The purpose of the game is to remove all the tiles from a board. The tiles must be removed by pairs. They have to be free on their left or right side, otherwise you can't remove them. The rules are simple and the game is extremely addictive!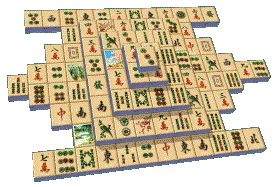 Features: 2D and 3D mode, several mini-games, hall of fame, high speed, user-friendly interface, tile highlights, many layouts, several great and relaxing oriental music (especially composed for the game), various backgrounds, sound effects, layout editor, shuffle, restart, undo, hints, multi-lingual (at least 27 translations included), and many more...
Screenshot :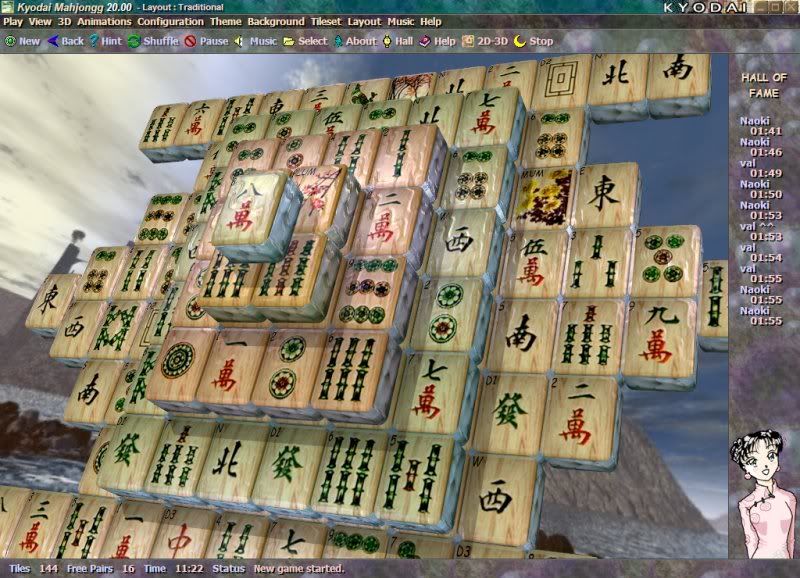 :
CODE