Search
Enter a keyword above and hit "Search".
Todays Top Downloads
Advertising
MEGA MAN X 1.03.20 (iPhone iPod Touch)
Overview: The super masterpiece of the action game "MEGA MAN X" now powered up! With variety of weapons and reinforcing parts, break Sigma's dark ambition down!!
Requirements: Compatible with iPhone 3GS, iPhone 4, iPhone 4S, iPod touch (3rd generation), iPod touch (4th generation) and iPad.Requires iOS 4.3 or later.
◆Upgrades in version 1.03.20 include:
・New mode "ENDLESS" is now available on "RANKING MODE"!!
Compete by the number of clear on the endless stage!
◆Supporting Device
iPhone 3GS, 4, 4S with iOS 4.3 or better / iPod touch 3rd Generation or newer / iPad
※Please note that iPod touch (8GB, Model No. A1288) is not supported (Model No. is on the back of the device).
◆Power-up points
1.【Supporting Retina Display!】
"MEGA MAN X"'s old graphic was localized!
2.【2 Display Modes!!】
In addition to "REGULAR MODE" which displays whole screen of the game, "FULL MODE," which displays full iPhone display, is available!
3.【3 Levels of Difficulty!】
In "STORY MODE", there are 3 choices ("EASY", "NORMAL" and "HARD") for the level of difficulty!
Choose "EASY", so that some stepping stones will appear to prevent prayers falling!
If you are confident enough, try "HARD"!!
4.【Ranking Mode! (Function supporting Game Center)】
"RANKING MODE" to compete ranking with other users will be available!
Compete with score in "SCORE ATTACK", and with time trial clearing stage in "TIME RACE", for number of cleared stages in "ENDLESS".
Brush up your skills, and aim the top ranking!!
5.【80 Challenges!! (Function supporting Game Center)】
20 challenges in the Opening Stage of "STORY MODE" (*1)!!
There are 60 in following stages, so there are 80 challenges altogether!
※(*1) does not supports Game Center.
6.【Support Items for Your Advantages to Play the Game on!!】
When you cannot find reinforcing parts while you are playing the game, or when you want to power up immediately, get the items from "CUSTOMIZE" screen!
"FULL ARMOUR", "FULL WEAPON" etc. are available for you to carry on playing with advantages!
Try discounted "Perfect Set" to be strongest!
*Items are available as in-app purchase.
*To purchase the items 3G or Wi-Fi environment is necessary.
◆Operating Methods
Move・・・・・Direction button
Shot・・・Attack button
Jump・・・Jump button
Change Weapon・・・Change Weapon button on the right top
Quick Change・・・Try touching the top of the game screen! And scroll your finger right and left then let it go; you can change the weapon quick and easy!
Dismounting Ride Armor・・・Tap the icon on the right top
What's New in Version 1.03.20
・"ENDLESS" mode is added to "RANKING MODE"!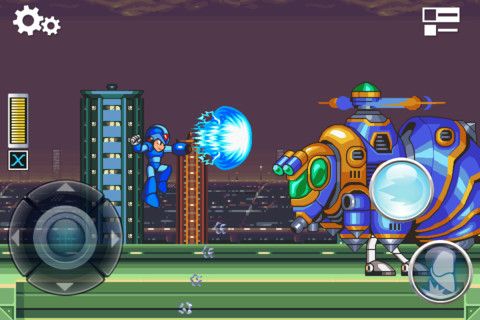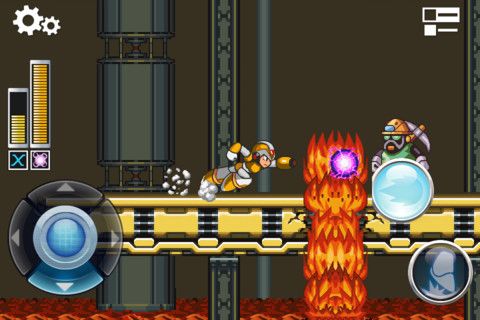 Purchase/Donate the app to Support the Developer and encourage further development
http://itunes.apple.com/app/id469343097?mt=8

MEGA MAN X 1.03.20 (iPhone iPod Touch)